Ocean Walk Shoppes Entertainment and Activities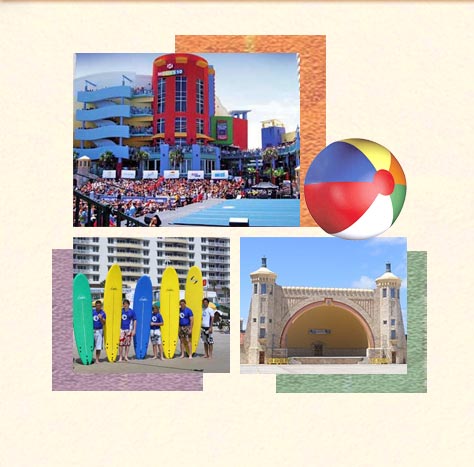 Ocean Walk Shoppes
At the heart of Daytona Beach's most famous shoreline, Ocean Walk Shoppes is a collection of upscale eateries, boutiques and 10 screen movie theatre will captivate guests with afternoon and evening delights. A live web cam at oceanwalkshoppes.com allows guests to view the Ocean Walk Shoppes, Bandshell and the Atlantic Ocean.


Ocean Walk Movies 10 – 386-238-5252
Filling the six-level 110,000 square foot oceanside shopping, dining and entertainment complex is the RC Theatres Ocean Walk Movies 10 an all-stadium seating, all dolby sound, with state of the art digital HD projection systems. Movie goers will enjoy the theatres' oversized, reclining seats with both popcorn and drink holders. And, no other area cinema can compare with RC Theatre Ocean Walk Movies 10's 3rd & 5th floor snack bars and 4th floor games area that showcase spectacular views of the Atlantic Ocean. Ocean Walk Movies 10 offers two VIP Party Rooms and the Ocean View Room great for banquets, specail events and VIP private functions!

Maui Nix–386-947-2493
One of the area's most popular surfwear shops, Maui Nix recently opened a second location at Ocean Walk Shoppes, marking the chain's fourth Florida location. Other locations include Beach Place in Ft. Lauderdale and the Aventura Mall in Miami. Plans for a fifth store are expected to be completed by the end of 2003. Clothes for the Soul!

Bath Junkie –386-255-3975
Experiment, party, get addicted! Bath stuff designed by you is what we do. First pick your favorite, ultra high quality, bath junkie product from our super selection of lotions, scrubs, body washes, and more. Next, create your own fragrance blend from over 200 perfume oils. Then, choose a color that best suits your needs. It all happens in real time, right before your very eyes. Bath Junkie is-bath stuff designed by you!


Daytona Beach Candle Gallery – 386-252-0035
We offer a variety of hand carved glowing artworks in an interactive environment. Your experience in the store is always entertaining because the artists are dipping and carving the candles right in front of you. Customers are also invited to try the candles under a spotlight to sample the glowing effect that they give off when lit. You will be amazed at the transformation that takes place when the candles are lit. The candles are created in a wide variety of colors, animals, and themes. Custom candles are also available and can be picked up within a day. The most amazing thing about our candles is that they don't melt away you can simply refill them with a tea light.

Caribongo – 386-490-4590
When visiting the Ocean Walk Shoppes be sure to visit Caribongo for a unique shopping experience. Everything in our store "magically" changes color with sunlight. T-shirts that change color before your eyes, nail polish that is a different color inside than outside, jewelry that makes you say WOW! We carry a full range of sizes for any customer starting at
6mo and going up to 3X. Stop in for yourself or for a unique gift that is sure to be remembered. Caribongo... A magical experience that people of all ages and from all places can enjoy. Caribongo... Products that make you smile!

I Love Jewelry – 386-253-0775
Fashion jewelry is an amazing alternative to real fine jewelry. It is cost effective and nowadays it looks and feels great as well. Experience over 3,500 different kinds of fashion accessories, semi precious stones,18k gold and gold filled accessories. Open display - see it, touch it and feel it. Shop at a premium shopping center with great prices.

Sunglass Hut – 386-947-0970
Why we are the authority on sunglasses. We've picked the seasons coveted styles, the most desired designers, and the latest technology and put it before your very eyes. With so many great frames to choose from it will be tough to decide. But with 90 days to Love them or change your mind, you'll look fabulous no matter what!

Daytona Beach Bandshell
Built to stimulate the economy during the Depression, the Daytona Beach Bandshell opened on July 4th, 1937. Tucked along the edge of the Atlantic Ocean in the middle of Ocean Walk Village, it is one of the area's most recognizable landmarks. This historic coquina amphitheater hosts an impressive outdoor concert series featuring acts ranging from bluegrass and country to big bands, swing and dixieland – with everything in between. These free concerts are a hallmark of the Spring and Summer seasons at Ocean Walk Village. For the summer concert schedule and further information, please visit bandshell.org or daytonabandshell.com.